Falcon Acoustics

Authentic BBC Quality Speakers, Made In England.
In the late 1960s, The BBC's Research Department at Kingswood Warren set out to develop a speaker to emulate the acoustics of their legendary Madia Vale Studios. They needed something small that sounded accurate and open while still going down to 70hz.
After extensive research, the fully imagined BBC LS3/5a emerged, and only about 20 units were produced. The original monitors employed The KEF B110 midrange driver and KEF T27 tweeters designed by non-other than Falcon's own Malcolm Jones.
Shortly after the success of their first speaker, the BBC Design Department was tasked with creating a small commercial-made speaker. The result was the now-famous BBC LS3/5a. Produced in small batches to maintain quality control with outside suppliers, the LS3/5a title is closely guarded to keep authenticity. Any speaker claiming to be an LS3/5a must follow the BBC's precise design and sonic specifications to be licensed and considered an actual BBC LS3/5a monitor.
Find a dealer > https://fundamentalaudio.com.au/dealers/.
If you're interested in becoming a dealer, contact us today.
LS3/5a | $4,999 - $5,299
System type: Two-way infinite baffle (sealed box)
Frequency response: 70Hz - 20kHz ± 3dB
Sensitivity: 83dB for 2.83V © 1m
Nominal impedance: 15 ohm
Bass/Midrange Driver: 138mm Falcon Acoustics B110 - graded and computer matched
Tweeter: 19mm Falcon Acoustics T27 - graded and computer matched
Crossover: Falcon Acoustics FL6/23 (BBC Design) - graded and pair-matched components throughout
Crossover Frequency: 3Khz
Cabinet: Selected grade Baltic Birch Ply, Beech battens, internally damped
Dimensions: 305mm H x 190mm W x 165mm D
Weight: 5.35 kgs each
Falcon LS3/5a Gold Badge.
Hand-built in Oxford, England by Falcon Acoustics, the LS3/5a Monitors are manufactured under license from the British Broadcasting Corporation and built in accordance with their rigid specifications. Falcon speakers are the only LS3/5a on the market that faithfully replicates the original BBC design published in October 1976.
The Falcon LS3/5a Gold Badge features Falcon's upgraded Gold Badge crossovers, an upgraded design inspired by the limited edition "Kingswood Warren" speakers.
Mounted on Falcon's multi-layer FL6/23 printed circuit board, the upgraded crossovers are hand-built using enhanced BBC specification large transformer-style inductors, specially designed capacitors, and ultra-low inductance resistors.
Gold Badge speakers offer a more refined top-end, with deeper extended bass on top of Falcon's already accurate, neutral timber and legendary soundstage.
Gold Badge crossovers are just the cherry on top of Falcon's already world-renowned LS3/5a speakers. With their legendary true-to-spec B110 drivers and T27 tweeters housed in graded Baltic Ply cabinets (available in several stunning finishes), it's no wonder why some reviewers are saying they "might be the best LS3/5a ever produced for general consumption."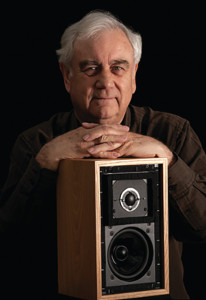 About Falcon Acoustics.
Falcon Electronics was founded in 1972 as by the first employee at KEF Electronics Ltd., Malcolm Jones. As KEF's Senior Development Engineer, Malcolm was responsible for most of the design and development of the legendary KEF drive units - the B139, B200, B110, T15, T27, and the speaker systems in which they were incorporated. After 13 years of success with some of the world's most fabled speaker designs, he left KEF in 1974 to work full time at what would then become Falcon Acoustics Ltd.
In 2014/2015, Falcon Acoustics released their now famous Falcon Acoustics Classic BBC LS3/5a monitor loudspeaker, and has since expanded the number of systems to include the R.A.M range, and the technologically advanced Reference range. Today, Falcon Acoustics is the largest UK supplier of drive units and UK Distributor for most major brands, as well as manufacturing the Falcon Acoustics range of drive units all designed by Malcolm Jones.